Imagerie #1 – Qui N'ont Pas Eu Lieu
Imagerie #1 – Qui N'ont Pas Eu Lieu
2021
Installation
Dimensions : 160×160 cm
◊◊◊
CEGZ.project avec les reproductions des œuvres de Isa Barbier, Deborah Benzaquen, Clôde Coulpier, Olivier Debré, Les diplômé·e·s de l'ÉSAD Orléans, Maria Papa Rostkowska, Marie Hendriks, Studio Zgorecki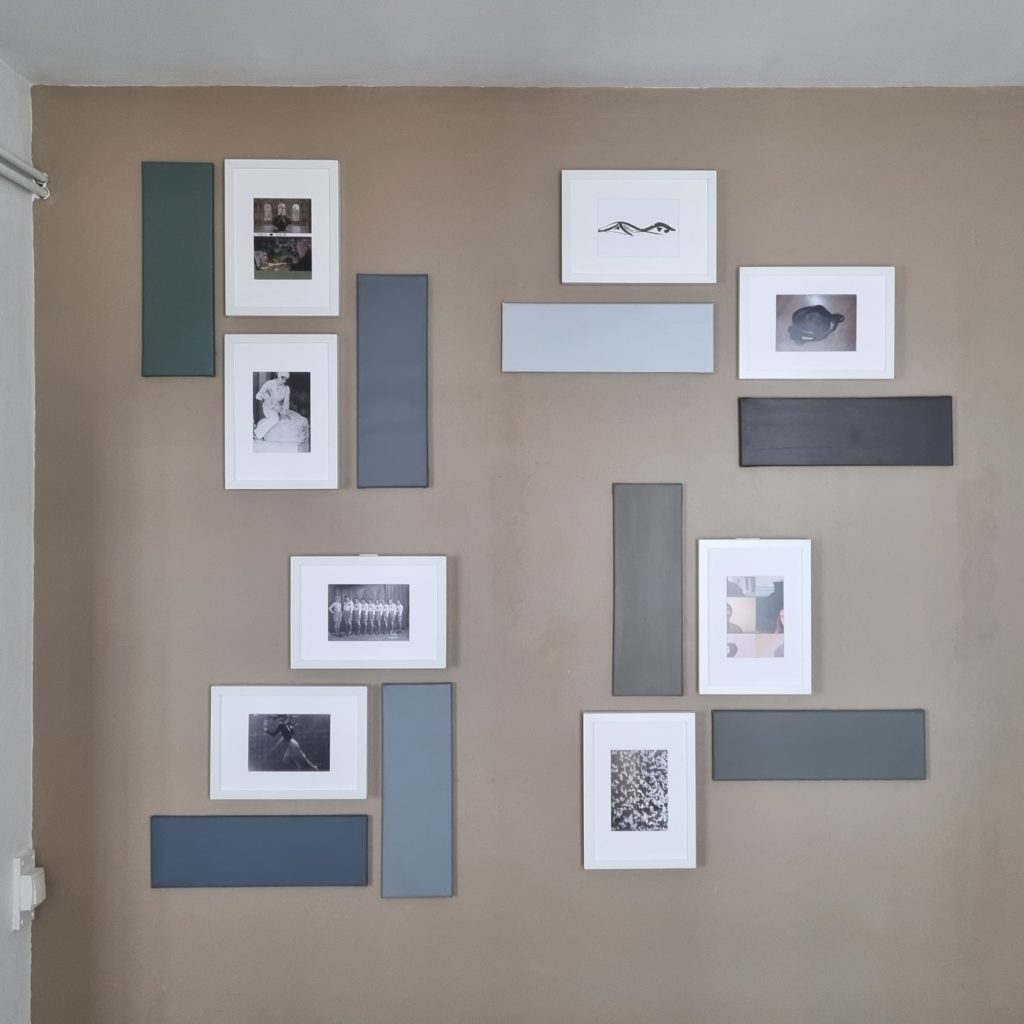 Description
Installation de 4 modules (8 cartes d'invitation encadrées, de 8 toiles peintes et de 8 voix off).
Accrochage sur fond taupe.

Provenant de 8 institutions culturelles différentes de la région Centre Val-de-Loire (France), les 8 cartes d'invitations sont celles d'expositions qui n'ont pas eu lieu en raison des mesures sanitaires pour lutter contre la pandémie de la COVID-19.

À chaque carte est associé un monochrome peint sur toile dont la couleur, calculée numériquement, correspond à la moyenne colorimétrique de l'image du carton d'invitation.

8 voix lisent le verso de chaque carton. Le nom des artistes et des œuvres ne sont pas lues, à la différence de celui des commanditaires.
Extrait :
◊◊◊
[english]
CEGZ.project with reproductions of works by Isa Barbier, Deborah Benzaquen, Clôde Coulpier, Olivier Debré, ÉSAD Orléans graduates, Maria Papa Rostkowska, Marie Hendriks, Studio Zgorecki.

Description
Installation of 4 modules (8 framed invitation cards, 8 painted canvases and 8 voice-overs) on a taupe background.
Coming from 8 different cultural institutions in the Centre Val-de-Loire Region (France), the 8 invitation cards are those of exhibitions that did not take place due to the COVID-19 pandemic.
To each card is associated a monochrome painted on canvas whose color, calculated digitally, corresponds to the colorimetric average of the image of the invitation card.
8 voices read the back of the cards. The names of the artists and the works are not read, unlike those of the sponsors.